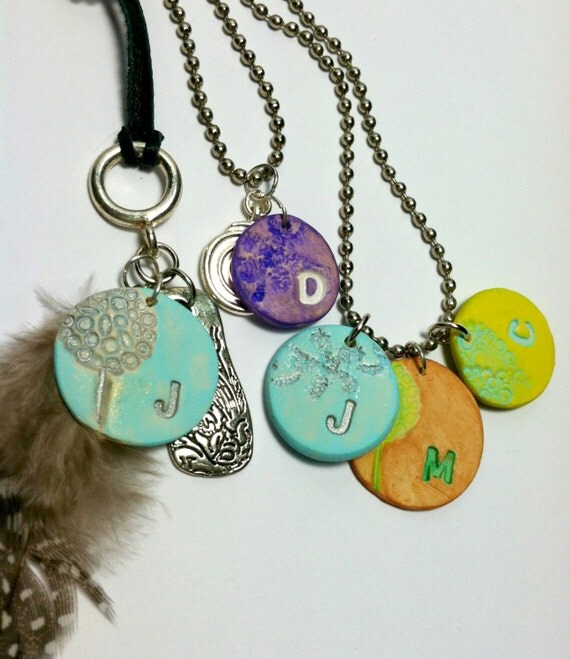 Jasmine and Lou are a mother and daughter team from California; together they run an Etsy shop named KOCO and VIKING. When you visit their store you are welcomed by a wonderful collection of pleasant colors and wonderful shapes, and this is just on their shop banner. Their items are all handmade by either Jasmine or her mother and their passion and love shines through each and every piece.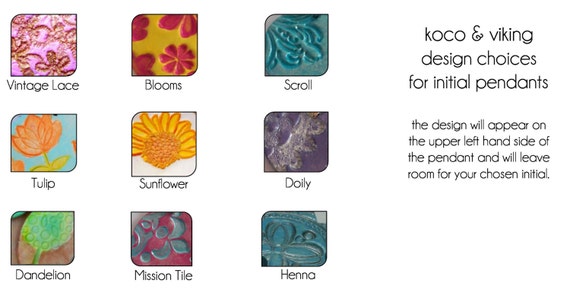 From their shop:
"Each pendant is handmade from clay and hand painted to your specifications with choices that will make you smile! We make each piece to order with lots of love and no 2 pieces are ever alike."
- KOCO and VIKING
Check back for my review of TWO of their necklaces
Continue reading on to get a chance to meet the two wonderful women behind the scenes of KOCO and VINKING and for your chance to win an awesome prize c/o KOCO and VIKING.
Many of the answers were provided by Jasmine and some were provided by both.
Q. When did you begin getting into crafting? What did you begin with?
A. I started crafting because my mom had been crafting from even before I was born. She had an established crafting business and I would make things our of her scrap pieces of dried flowers, jewelry; anything that was laying around or in her "trash" bin.
Q. Do you work outside of your Etsy shop? If so, what is your occupation? How do you find time for both?
A. My mom and I both trade off taking care of my ailing grandfather. She also designs and creates award winning costumes, ballroom dresses and pageant dresses. I do graphics and marketing for non-profits. Making time for both is difficult, but we work together and that makes it, not only easier, but fun!

Q. How did you learn about Etsy? When did you start your shop?
A. I learned about Etsy through friends that share my passion of all things handmade and local. We started our Etsy shop in December of 2009 after being active at events and in boutiques for about a year.
Q. How did you come up with your Etsy shop name?
A. Koco and Viking are beloved dogs. My mom and I adored our Koco; a Jack Russel Terrier and Viking was the prized pet of my husband's family. They were both loving, spirited and filled our homes with love, all of which we want our customers to feel wheen they have/give a piece of ours. The stories of the 2 dogs are so similar and we knw that we wanted to honer them in a special way.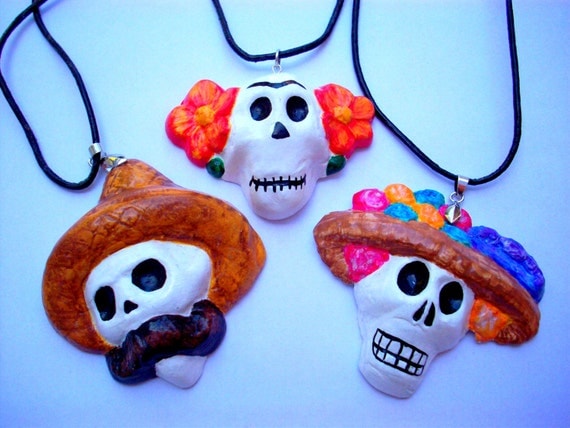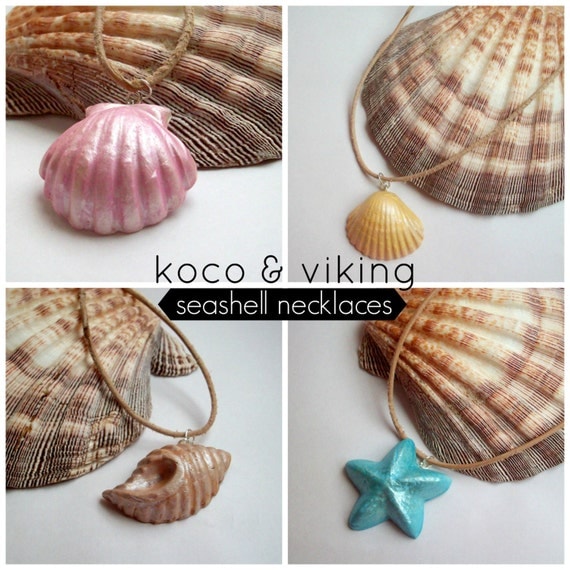 Q. Where does your inspiration for your items come from?
A. We get inspiration EVERYWHERE. I was born and raised in Los Angeles and my mom in the California Central Coast - each by the beach. So, we're influenced by all of our experiences growing up by the beach and the different cultures in our areas. Also, we both love nature and other cultures so you'll find the in our pieces as well.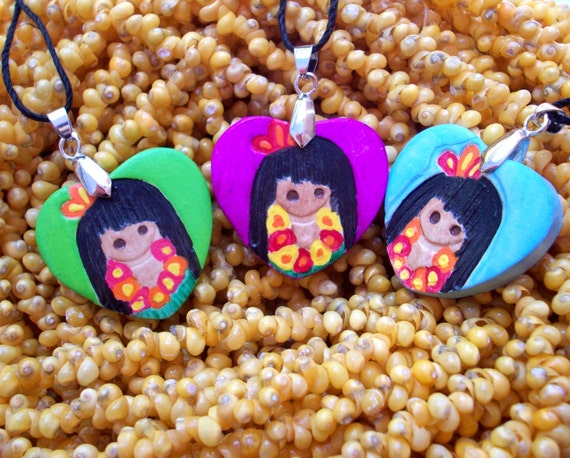 Q. What are your favorite materials to work with/favorite mediums?
A. We both love to work with anything we can get our hands on. My mom is big on fabric, being a designer, as well as crystals and other jewelry pieces. I'm into things I can manipulate: clay, paint and wire.
Q. Is there any item in your shop with a story behind it?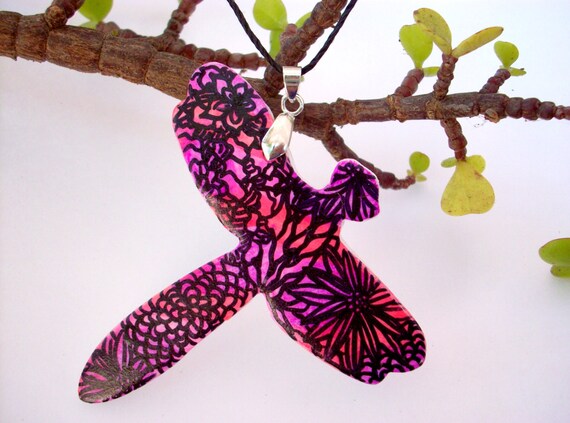 A. All of our pieces have something behind them, We wouldn't be able to make a piece become a reality if it wasn't first inspired by something. The dragonfly means a lot to my mom and I. After my grandma passed a year ago, I would be followed by dragonflies all the time and we don't see those unless we go out hiking. So, now the dragonfly represents my grandma and her spirit, always with us.
Q. Do you have any advice for shops just starting?
A. Etsy is a community that allows you to connect with people just like you from all over the world; take advantage of it! Reach out and build relationships, it will make a world of difference.
Q. Anything you would like to share with the readers?
A.We really are greatful for all of the blessings we have received through our business. We have made so many new friends. Love goes into everything we make and our goal is for you to feel that love when you receive or give the pieces as well.
FIND KOCO AND VIKING ONLINE!
"Like for exclusive specials posted all the time"

This mother and daughter team put their whole heart into making these gorgeous items for each and everyone of their customers, and you can see it! I got my own two necklaces from them, and I cannot put them down! They are absolutely gorgeous and mean the world to me because they include my son's initials. Let's get to read a bit more about this mother and daughter duo, come back soon for my review on the lovely pieces they were so kind to send me.
All of these have been answered by Jasmine!
Q. What is the furthest place you have traveled?
A. Australia and the Phillipines (based that on how long I had to be in a plane vs. how many miles actually traveled! haha)
Q. Do you have any pets?
A. Yes, our house lives our MinChi, Izzy. He even has his own facebook fanpage!
Q. If you could get back a lost item from your past, what would it be? Why?
A. Unfortunately, all of our family Christmas ornaments were lost. Every year, when preparing for the holiday, I get heartbroken knowing that we'll never see them again. Those ornaments held a lot of memories in them.
Q. What is your favorite food?
A. I'm into everything. We are a big foodie family and we experiment all the time. I couldn't say just one thing.
Q. What do you enjoy doing on your past time?
A. I absolutely love spending time with my husband. We like to go out on, what we call, "Discovery Days." That's when we explore a place we've never been. Growing with your partner makes your bond even stronger.
Q. What would people be most surprised to know about you?
I'm an open book, but for those that don't know me? I used to direct and choreograph theater internationally!
What you could win:
Jasmine and Lou have been absolutely kind enough to offer TWO (2) prizes!! That's right we will have two winners for this giveaway and they have been absolutely generous in offering EACH winner $50.00 worth of CUSTOM JEWELRY from their shop!! The winners will be able to choose the design, color, etc. Jasmine and Lou will e-mail the winners directly to offer them their choices. So why not head on over to their Etsy shop and start looking around and getting ideas!
**PLEASE MAKE SURE TO READ ALL THE RULES PRIOR TO ENTERING THIS GIVEAWAY**
RULES AND RESTRICTIONS: GIVEAWAY IS
OPEN to US and CANADA RESIDENTS ONLY
!
PLEASE MAKE SURE TO FILL OUT
ALL THE MANDATORY (IN BOLD)
OPTIONS IN THE RAFFLECOPTER WIDGET, MAKE SURE TO PROVIDE ALL THE NECESSARY INFORMATION.
(ALL INFORMATION AND ENTRIES WILL BE VERIFIED)
ON THE END OF THE GIVEAWAY (
AUGUST 10TH,2013)
A WINNER WILL BE CHOSEN AND CONTACTED. THE WINNER WILL HAVE
48 HOURS
TO CLAIM HIS/HER PRIZE, FAILURE TO DO SO WILL RESULT IN A FORFEIT AND ANOTHER WINNER WILL BE CHOSEN.